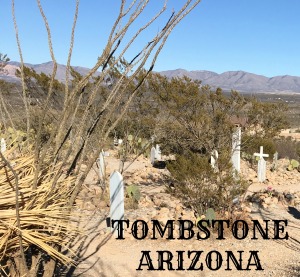 I'll take World Renown Cities for $1,000, Alex.
Answer: This Arizona mining town was originally called Goose Flats
Question: What is Tombstone?
Fresh off a caffeine buzz from a double espresso at Wyatt Earp's Coffee House, Donna and I thought it would be fun to do a Periscope session while I walked down the main street of Tombstone.  Typically our impromptu interactive videos in which I'm the host generate a handful of viewers for us – sometimes as many as 30. About ten minutes into this one – as I was nearly sucked into the allure of Ike Clanton's Haunted Hotel  – our number reached over one hundred. By the time I was pointing out the bullet hole in the bar at the Bird Cage Theatre – we'd reached nearly 150 viewers including some from Russia, Brazil, and England. I wanted to think this spike in my audience was due to my magnetic personality, but it wasn't. The world loves Tombstone.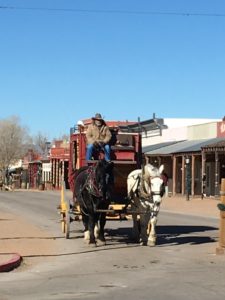 No time in history compares to the American west during the late 19th century and this town brings that to life like no other. It's hard not to visit Tombstone without feeling a barrage of goose bumps. Our first stop was the Epitath newspaper publishing office where we studied a diagram of the O.K. Corral shootout hand-drawn by Wyatt Earp.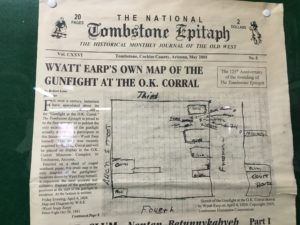 As we headed toward the center of town, a pair of boot heels and spurs walking the wooden boardwalk provided the ideal soundtrack. A horsedrawn carriage passed just as we rounded Allen Street. Stetsons and Duster jackets were a plenty. We were glad we got there early. The ice cream lickers were still driving in on the highway. The morning sky was blue and the air cold. Suddenly it was 1880.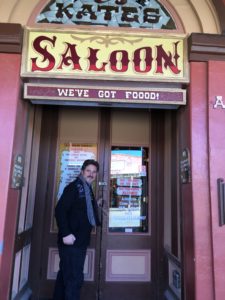 Tombstone has a tourist trade, but it's surprisingly subtle – falling into the shadows of surrounding rich history and spirit. The legendary buildings are still in go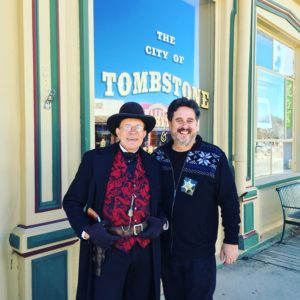 od shape –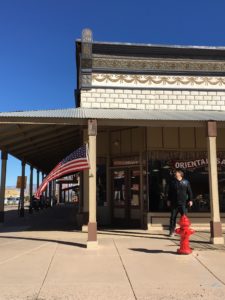 The Oriental Saloon where the Earps commanded a gaming table, the Bird Cage Theatre where Doc Holliday engaged Johnny Ringo in Latin duel. We felt fortunate to hook up with a great tour guide – Dr Jay – retired dentist and local historian fully decked out in period garb. His "edutainment" approach kept us laughing as we absorbed so many interesting tid bits of history – all of it Jeopardy worthy.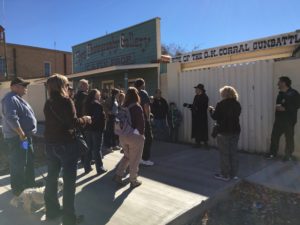 A bit off the beaten path, Tombstone is about 1.5 hours southeast of Tuscon (a half hour south of the 10 at Benson) accessible by well maintained paved highway. A visit is well worth the extra time.