Savory Road Radio Feature
This week on Savory Road Radio we are featuring our Gastronomic London with Context Travel.
Radio Copy: Ah – you gotta love London. Ride The Tube, hang out in Trafalgar Square, catch a show on The Strand. Like New York or Paris, the city has way too much to see in one visit. While planning our most recent trip back, we resisted the temptation to visit sights we'd already seen, in fact – Donna and I decided to stay in a completely different neighborhood- someplace we'd never been. We found an Airbnb apartment in a practically tourist-free area. While there, we discovered what the locals call the best market in London, and many call the best market in the world. One thing for certain, it's age of 1,000 years makes it one of the oldest markets in the world.
Southwark is located just across the London Bridge in Central London. I first pronounced it the way it reads – SOUTH-WARK which was about as correct as pronouncing Lester Square the way it reads – LY-CHESTER Square. Regardless, we found Southwark to be a thriving and hip area that's in advanced stages of regeneration. Southwark has a rich history which dates back to Roman occupation, but it's always been most famous for it's market. Located along the south bank of the river just off the London Bridge – it was a perfect place to unite buyers and sellers. Most of the market's cool architecture has been developed since the mid- 1700s when it was redeveloped by the city as  they widened roads to facilitate traffic over the bridge. That's when it was renamed Borough Market – consistent with the status of the neighborhood  – one of London's original "suburbs" if you will. So much of London's culture developed from this market. By the 13th century, more and more goods were being brought in from the south of England by horse and carriage. Tired horses and coachmen were refreshed at many of Southwarks coaching inns. You might recall one of them – The Tabard – which was made famous in Chaucer's novel The Canterbury Tales. Rail lines eventually took over and the coaching inns disappeared, except for one – The George. It's still active as a Pub and now owned by the National Trust, so we had a chance to see it. That was also where we meet up with Londoner Anna Seecharan, Food Anthropologist and tour guide with Context Travel.  She explained how the area once thrived with coaching inns and now is only a fraction. By the mid 18th century, roads lead to the Borough market from cities all over England.
 Anna lead us across the street to the bustling market. I've been to a lot of these, but nothing impressed me like this place. It's history was evident everywhere I looked. The fruit and vegetable section was spectacular and exploded with color – apples, peppers, berries, arranged in such an artistic fashion. A place called Mushroom Cellars boasted dozens of varieties of exotic fungi. Another offered seafood caught only by divers. I was intimidated by wheels of cheese the size of tractor tires. With access to all this fresh local food, I was happy we'd decided to rent an apartment with a kitchen – but – what to cook? As potential recipe ideas danced through my head, Anna got my attention and insisted I taste a traditional London favorite – jellied eel. Served ice cold, its made with chunks of fresh –  naturally gelatinous – river eel which are boiled in spiced hot water, which gels when cooled and chilled. So, how'd it taste? Delicious.    
 We followed a wonderful aroma to a section offering cooked food – chicken and beef simmering in heavy sauces at a Caribbean soul food booth, Swiss Raclett cheese, freshly warmed and scouped atop crusty bread, hot pork pies, and goat milk ice cream. After gorging – I mean – sampling this food, I was stuffed – thus solving my problem of figuring out what to cook. I was so glad we decided to try a new neighborhood.
 So, what's happening closer to home?
Norco will present its 12th Annual Horsetown Parade of Lights and Christmas Festival Saturday December 10th. Food, events, and entertainment all day followed by the parade at 5PM.
 Also on December 10th the city of Fontana is holding the Festival of Winter. They will shovel in 50 tons of snow to get you into the Christmas spirit  along with food, games, and a visit from the big man himself.
For more information, visit Savoryroad.com. I'm Jeff Baker
THE FACTS
Where: Southwark, London
Tour: Context Travel: London Market Walk
Tour: Context Travel: Westminster Abbey, Britain Through the Ages Tour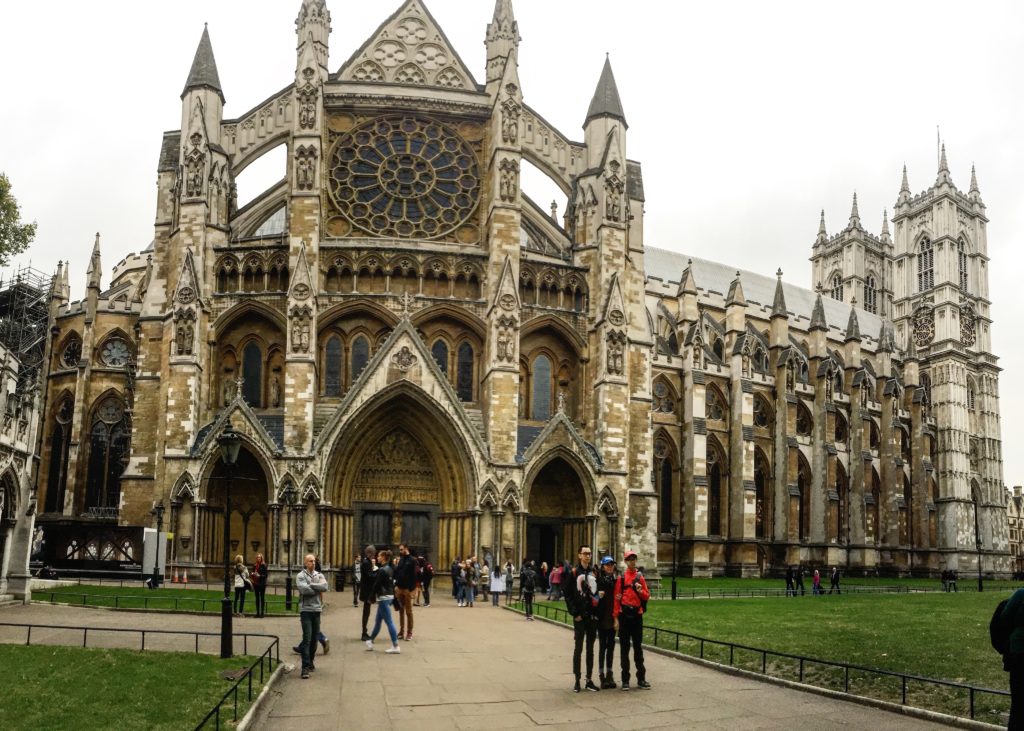 Stay: Airbnb in London